BIANCA FALCO/LABILAB DANCE COMPANY

DANCERS:
LAURA ORFANELLI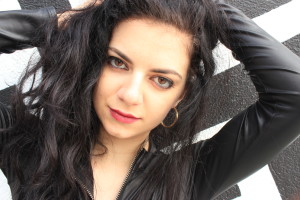 Laura comes from Abruzzo, Italy. Since 1998 she studied Ballet, Modern Jazz, Hip Hop, Contemporary Dance, Improvisation, Choreographic Composition in Italy. SUMMER 2009/2010/2011/2012/2013/2014 she studied during an intensive week in July of stages/workshops/performances at "RICCIONE ESTATE DANZA" with Mauro Astolfi, Alessia Gatta, Dominique Lesdema, Omid Ighani, Marisa Ragazzo, Debora Ferrato, Kledy Kadiu, Swan, Michele Merola, Rosanna Brocanello, Caterina Felicioni, Fabrizio Monteverde, Giuseppe de' Medici, Sabatino d'Eustacchio, Marco Cavalloro, Stefano Pastorelli, Salah, Fritz, Aziz, Bayon, Gus Bembery, Daniel Tinazzi, Javier Ninja, Laure Courtellemont. 06/2012-2013-2014 Dance Show of Graduation at Obihall Theater in Florence (Italy).
09/2013-07/2014 Workshops and Performances with Rosanna Brocanello. Daniel Tinazzi, Sabrina Secchi, Massimiliano Barachini, Loris Petrillo , Corinne Lanselle in LOFT space at Opus Ballet. Florence (Italy). Currently she is a student at Peridance Capezio Center, Broadway Dance Studio and EXPG. 07/21-22-23/2015 Intensive workshop and performance with DaCru Dance Company.
She joined Bianca Falco/Labilab in 2016.
REEMA BOUNAJEM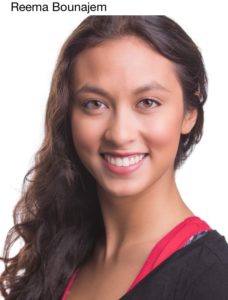 Reema began dancing at Friends University in Wichita, Kansas in 1999. She later moved to Texas and trained under the instruction of Mariya Kudyakova, Alexander Vetrov, and Paul Mejia. After graduating from the University of Texas at Austin with a BFA in dance and Business Foundations Certificate from the McCombs School of Business, Reema moved to New York in the fall of 2015. She recently choreographed and performed in Intel's Keynote performances in Las Vegas, Nevada and Anaheim, California. Reema also danced in the seasonal show Awaited in Cincinnati, Ohio and frequently performs with Jenny Rocha and her Painted Ladies, Reaction Dance Company, and HannaQ Dance Company.
MUSIC:
ALBERTO FALCO
Composer, guitar player, arranger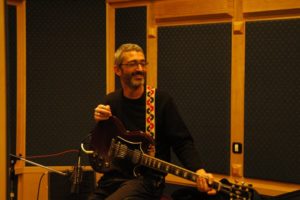 Alberto Falco was born in Napoli and he is the descendent from Raffaele Calace, a famed Italian mandolin player, composer, and luthier. At 6 years old Alberto starts studying piano with his aunt Vittoria Calace, concert performer and Raffaele's daughter. At 12 years old he picks up his first guitar and begins learning music harmony. He begins peforming when 14 with blues, rock and funk music groups. Later he studied Jazz harmony with Pietro Condorelli and Roberto Cecchetto and Big Band composition and arrangement with Marco Sannini.
In 1994 he visits New York to study with Jim Hall, Joe Di Iorio and Mike Stern.
He starts exploring new sounds and he begins his collaboration with dance and his sister Bianca Falco Spacewalk" e "Equilibrium Precarium" (1996, New York), "With Things Attached" (1997, New York), "Lailailà"(video 2005 Perugia-New York) and with music and fine arts explorations as "Monk-in" (1999, Napoli).
In 2003 he has been awarded the "Premio della critica" at festival Salerno Music Doors with his Quartetto Toledo (juror Steve Grossman).
In 2012 he composed for the short film A ballad for Tex (San Diego, California).
He performed in numerous festivals, collaborated live and in recording sessions with multiple artists. To mention some the: Performing and recording for Adam Rudolph's "Organic Orchestra", recording and composing with "IS Jazz Ensemble".
Participating in Alto Fest, NaMusica Festival, Linea d'Ombra Salerno , Dissonanzen , Benevento Città Spettacolo , Emozioni Napoli , Alto Fest , Aggregazioni , Dissonanzen , Marechiaro Jazz Festival, Pertosa Jazz, Pomigliano Jazz Festival, Jazz and Other di Bolzano, Jazz Friends, Evento di Lamezie Terme, Salerno Music Doors, Afrakà Jazz, Nuovi Scenari, Itri Arte, La Settimana della Cultura, Concerti al Mausoleo di Alife, Esplorando, Festival delle Arti, XXX Stagione Concertistica di Ragusa, XXX e XXXIV Stagione Artistica di Pignataro Maggiore.
TECH.DESIGN:
MARCELLO FALCO
Lighting Designer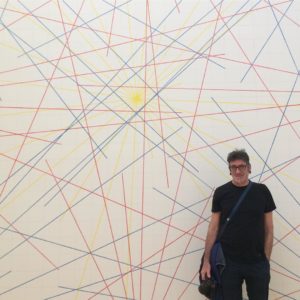 Marcello Falco, born in Naples – Italy, 1965, Technician and Lightning Designer for Theater and Dance, Film Electrician and Gaffer. Among his work: – Theater and Dance: "Metteteve a fa' l'ammore cu me' " and "L'Ereditiera" di Arturo Cirillo; "I Negri" "Porcile" and "HL DOPA" di Antonio Latella; "O' Mare", "Il Giro dell'Acqua" and "Santa Lucia della Bella Speranza" di Sara Sole Notarbartolo; "Il Misantropo" di Gabriele Russo Prod. Teatro Bellini di Napoli; "Stormo" Prod. Teatro Stabile di Napoli Mercadante and "Figli del Tricolore" di Antonello Cossia; "Fonemi" di Gabriel Beddoes winner festival Oriente Occidente di Rovereto; "Vis Motus" di Gabriel Beddoes Prod. Festival Oriente Occidente di Rovereto; "IN.CO." di Antonello Tudisco; "Inferno" di Emiliano Pellisari; "Tommy, non apro" di Vincenzo Borrelli Prod. Napoli Teatro Festival; "Vania" regia Stefano Cordella; Mamma Compie 70 Anni" and "La Casa di Bernarda Alba" regia Alessandra Asuni per Napoli Teatro Festival Italia. – Technical Director: "Napoli Teatro Festival"; "Fringe Festival Napoli" (all edition); "Festival Internazionale dell'attore di Montalcino"; of "Nuovo Teatro Nuovo" di Napoli and "Teatro Kismet Opera" di Bari. – Movie Electrician and Gaffer: "L'Amico di Famiglia" and "Il Divo" director Paolo Sorrentino; "Lascia perdere Jonny" director Francesco Bentivoglio; "La Mano di Dio" director Marco Risi; "Una Notte" director Tony D'Angelo; "La Bas" director Guido Lombardi; "La Kriptonite nella Borsa" director Ivan Cotroneo; "Impepata di Nozze" and "Con Tutto l'Amore che Ho" director Angelo Antonucci; Gomorra season 2 director various; "La Tentazione" director Gianni Amelio; "L'Intrusa" director Leonardo Di Costanzo.