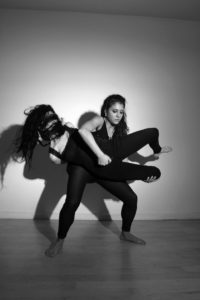 Thank you to all who have supported Bianca Falco/Labilab!
To DONATE online, click on the link and follow the instructions:
Click here to Donate.
To donate by check:
• Make all checks payable to "The Field" only – there should be nothing else on the payable line.
• Write Bianca Falco / Labilab / Terra dei Fuochi/Land of Fires name in the memo line.
• Donors should mail checks to: Bianca Falco – 46 Rivington Street #2A, NY, NY 10002.
We are proud to announce that La MaMa Experimental Theatre Club has invited Terra dei Fuochi / Land of Fires to receive its world premiere in March 2017, as part of their 55th season, and in doing so lend their support to the mission of the project.
We have been granted a residency as well by prestigious Chashama Org.. The residency took place December 7-20, 2016 with the opening reception on December 16 and performances on December 15, 16, 17, 18 at Chashama / XOCO 325 West Broadway in Soho, NYC.
We write to extend an invitation for you to join us in our mission to address a devastating environmental issue facing the residents of Campania, Italy, where for years, due to toxic waste and carcinogenic contaminants in the land and water supply, mothers are battling the loss of their children to cancer. As a native of Campania, this is a deeply important and emotional issue for me.
After reading The Gospels of the Land of Fire by Father Patriciello, and watching a collection of interviews with the suffering mothers of Campania, I was moved to act. As a trained choreographer and dancer, I began work on Terra dei Fuochi / Land of Fires, a performance project that blends the conventions of documentary theatre with modern dance to tell the story of the mothers of Campania. I started a dialogue with Marzia Caccioppoli and with the association Noi genitori di tutti www.noigenitoriditutti.it (We are the parents of all), an association of mothers and fathers from the region who have lost their children to cancer. Marzia lives in Casalnuovo di Napoli. Her family left Naples looking for a pleasant place with clean air in the countryside. Instead, her son Antonio died of cancer at the age of nine.
To accompany the performance, an informational booth will provide details about the toxic waste situation afflicting Campania Felix and how this situation can be compared to others around the globe. We aim to provide further education in the increasing land and water contamination issues facing our global community.
Today, I am joined by an entire company of dedicated artists of excellence from Campania, and neighboring communities, in the creation of Terra dei Fuochi / Land of Fire, including Composer Alberto Falco (Napoli, Campania), Lighting Design concept Marcello Falco (Napoli, Campania), Dancers Bianca Delli Priscoli (Salerno, Campania) and Laura Orfanelli (Abruzzo).
But we need your support. We need $9,000.00 to cover the last expenses of the project. We ask that you consider lending your financial support with the understanding that no donation is too small and all donations are tax-deductible for U.S. residents. A percentage of the donation will be given to Marzia and her Association.
Bianca Falco is a sponsored artist with Performance Zone Inc (dba The Field), a not-for-profit, tax-exempt, 501(c)(3) organization serving the performing arts community. Contributions to The Field earmarked for Jen Abrams are tax-deductible to the extent allowed by law. For more information about The Field contact: The Field, 75 Maiden Lane, Suite 906 New York, NY 10038, phone: 212-691-6969 or fax: 212-255-2053 or for our national charities registration. A copy of our latest financial report may be obtained from The Field or from the Office of Attorney General, Charities Bureau, 120 Broadway, New York, NY 10271.
DONORS
2016
Chashama.org
Anita Durst
Renata Ziliotto
Rolando Politi
Haideen Anderson
Aaron Taylor Kuffner
Radio Nuova York
Alberto Cretara
PAST
Barbara Gentile
Alberto Cristofari
Keryn Kaplan
David Stallbaumer
Mareile Paley
Amy Gage Yıldızlı
Cecilia Fontanesi
Kirk Bradley Peterkin
Sigrid Mueller
Laureen Italiano
Olivia Bonomi Todorov
Gisella Sorrentino
Gennaro Napolitano
Sarah Wolfe